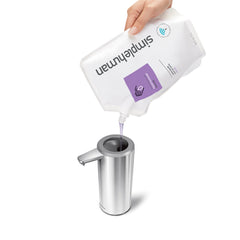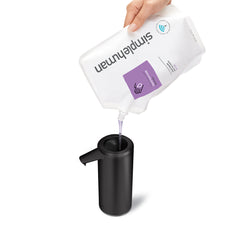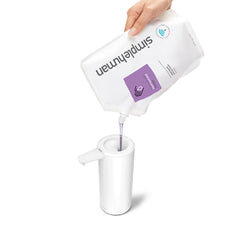 AR
view in your room
free shipping for members
45-day risk-free returns
question?
click to chat live
overview
The perfect tool for dispensing hand soap, dish soap or sanitizer touch-free without leaving germs behind. And with two pumps, you can put one in the kitchen and one in the bathroom — or almost anywhere you need quick, easy access to clean hands. Clog-proof tubing pump ensures a precise and consistent flow, and the silicone valve prevents messy drips. To control the amount of soap desired, you can position your hand up close to the sensor for a little soap and farther away for more. Funnel refill opening makes refills fast and easy, and it's waterproof for easy cleaning. Rechargeable with included charging puck — one charge lasts up to 3 months. Use simplehuman soap or sanitizer for optimum pump performance.
specifications
material:
high-grade brushed stainless steel
power source:
built-in lithium ion battery
battery life:
3 months on 1 charge
soap compatibility:
simplehuman liquid soap + liquid soap without exfoliants + hand sanitizer
what's in the box
2 sensor pumps
2 liquid soap sample pouches
2 charging pucks
9 fl. oz.